In 2009, upon the passing of Eileen Maddex, friends, family, and colleagues donated generously in her name to Kappa Omicron Nu. These gifts became the Eileen Maddex Fellowship that KON issued to support future KON students in her name. Please join us in taking a moment to reflect on the life of this remarkable member.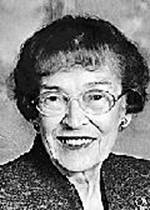 Eileen Maddex (1921-2009)
Eileen Irene Callaghan was born in Columbus Ohio, in 1921, the eldest of five children. She attended Catholic school and graduated from Ohio State University in 1944. She met Robert L. Maddex at a Newman Club Friday the 13th "Jinx" Dance while attending Ohio State and married him when he returned from WWII in January 1946. They moved to East Lansing Michigan in 1948 when Robert became a professor at Michigan State University. Eileen put her Home Economics degree to work early as a mother and homemaker and raised five sons: Doug, Greg, Jeff, Norm and Paul in Haslett, Michigan. In 1966 Eileen accepted the position of Executive Director of Omicron Nu, Inc. a National Home Economics Honor Society. Her professional career blossomed over the years due to her organizational, budget and management skills. Eileen regularly organized, planned, and coordinated national conferences involving hundreds of attendees from across the country. She belonged to many social, religious, and professional societies throughout her life. Eileen served on the executive board of directors of numerous organizations, including the Association of College Honor Societies. In December 1977 when her husband Robert passed away Eileen's religion, faith and wonderful network of friends sustained her through her loss. In 1981 she married Harold Miller, of Haslett and they spent eight wonderful years together before Harold's death in 1989. In the early 1990's Eileen became Executive Director of the Ingham County Home Association where she headed a five-year project to design, construct and operate Marsh Pointe, a 108-unit apartment complex for elderly seniors of moderate income. This was the crowning achievement to her successful and varied professional career. In April 2009, at 88, Eileen finally retired to spend more time with friends and family. Eileen passed away peacefully with family at her side on November 12, 2009. Upon her passing, friends and colleagues contributed generously to Kappa Omicron Nu in her name. Eileen enjoyed traveling and she regularly visited her children and grandchildren across the United States, to Alaska, Mexico, the Bahamas, and Europe. Throughout her life, Eileen's faith in God and the church was ever-present in all she did.
No gift is too small. Please support KON.