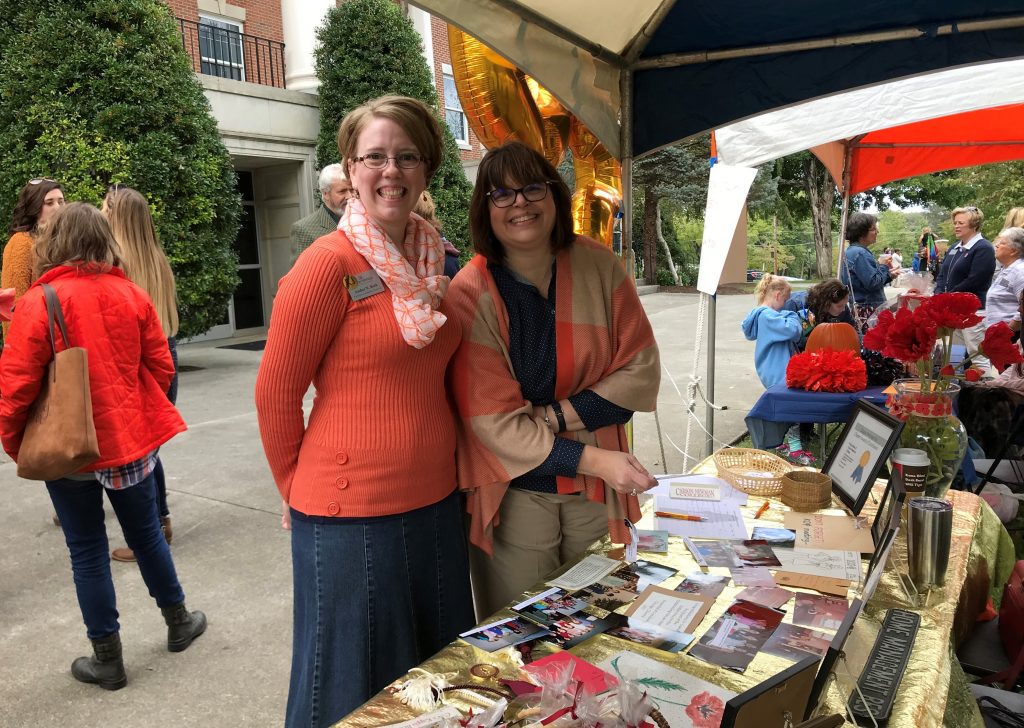 Amber is KON's new President of the Board of Directors. She is the chapter adviser for the Kappa Beta Xi chapter at Carson-Newman University. I was able to spend some time with her recently for an interview to get to know her better. Here are some bits from that discussion.
Q: Can you tell me about your career?
A: I was just awarded tenure this March, after my 7th year at Carson-Newman. I wanted to find ways to grow leadership in Family and Consumer Sciences and felt that leadership in KON was a good way to do that.
AAFCS Annual Conference from L to R: Kathleen O'Rourke, Amber Roth, Kitty Coffey, Heather Whaley, and Sally Fortenberry
Q: How did you become involved with KON?
A: When I joined the faculty at Carson-Newman, one of the expectations was that I become the adviser of their KON chapter. Diana Carroll was the previous adviser. She was a founding member of Kappa Beta Xi in 1968 and served as the chapter advisor for more than 30 years. She was very involved, and was given several awards, and served as KON president at least once. You could say our chapter has a long and proud history of service.
I was paired as a co-advisor with Kitty Coffey the first year and took over as full advisor after that. Kitty is a legacy as well in her own right. We're a small chapter; we don't have more than 15 or 20 students at a time, but our chapter has won multiple KON Chapter of Excellence Awards. Since KON started the program in 1980 we've won 26 of these awards. We're very proud of that.
With Kitty's encouragement and Diana's mentorship, I had big shoes to fill. I didn't want to let either of them down, so I got involved. I became a KON member in the fall of 2014 and joined the Board of Directors in the summer of 2017.
Kappa Beta Xi's wall of awards, featuring their Chapter of Excellence Awards and Undergraduate Research Award
Q:  What benefits have you gotten out of your membership with KON?
A:   One big benefit as I noted was in deepening my relationship with Kitty and Diana.
I also love working with the best of our Family and Consumer Science students. They all are passionate about what they do, they have excellent GPAs, and working with them is very rewarding as an adviser. Sometimes it's a hard sell to a student on financial aid and without a lot of discretionary income to convince them that the membership fee and dues are worth the expense to join. One of the benefits of membership for students is opportunities for leadership experience, not only at the chapter level but also nationally. Since I became the advisor of Kappa Beta Xi, none of our chapter members have served on the national board, but I am hopeful that a future member will eventually feel led to run for a student board member position, especially as the National Office and Executive Board continue to offer value-added services and experiences for all KON members.
Amber safely connects with students during office hours.
Q: Tell me about your service with KON. What are you most proud of?
A: I'm proud of where KON is now compared to where it was when I started on the Board of Directors in 2017. We keep saying we're in transition, and we're not there yet. That is true. But we are making progress and I feel that I'm making a difference. It's very exciting. I hope that by the end of my tenure as president, I'll be able to pass it on feeling happy and proud of where we are and that I'm passing on something in good shape for the next person to take the next step to help KON grow.
Amber at Nashville Fashion Week 2019, volunteering behind the scenes with her fashion students.
Q: What do you like to do in your spare time? Hobbies?
A: I like to sew! What can I say, I'm a textiles person. When I'm allowed to, I also like to travel overseas. The British Isles are my favorite place to travel to. My mom is on a genealogy kick and we've recently been able to travel to connect with some family history in Northern Ireland and England.
No gift is too small. Please support KON.