1912: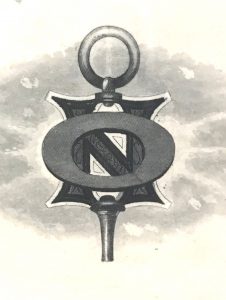 Omicron Nu founded at Michigan Agricultural College, now Michigan State University, in East Lansing, Michigan. At that time there were three academic programs at Michigan Agricultural College: agriculture and engineering for men and home economics for women. Maude Gilchrist, Dean of Home Economics, recognized that women did not have the same advantages and opportunities as men. Agriculture on the campus had Alpha Zeta to recognize high scholarship, and Tau Beta Pi was the honor society for engineering. Faculty members were familiar with other honor societies because Agnes Hunt was a Phi Beta Kappa member and Grace Stevens was a Sigma Xi member. So the Dean and the faculty decided to do something to recognize home economics scholarship. They formed Omicron Nu to set high standards for the newly emerging programs in home economics and to provide an incentive for scholarship. The purposes of promoting scholarship, research, and leadership were the motivating factors behind its expansion to other campuses across the country.
1922:
Kappa Omicron Phi founded by Mabel Cook in the dietetics class of Hettie Margaret Anthony at Northwest Missouri State Teachers College, Maryville, now Northwest Missouri State University. Miss Anthony, Head of Home Economics, provided leadership to the honor society for the first fourteen years as it expanded to other campuses and became a national organization. Emphasis was placed not only on intellectual and scholastic excellence but upon personal development—intellectual, spiritual, ethical, and aesthetic qualities. The society undoubtedly benefited from the unique leadership of Hettie Margaret Anthony. Her scientific mind, courage of conviction, sound judgment, and deep interest in the welfare of women contributed to the values and stability of the organization. Her memory is perpetuated through an annual fellowship for graduate study. Fifty years after its formation, Kappa Omicron Phi opened membership to men.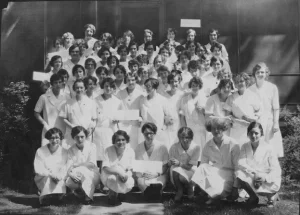 1990:
Kappa Omicron Nu was established on February 21, 1990 by the consolidation of Kappa Omicron Phi and Omicron Nu. Following a successful three-year collaboration as an Administrative Merger, Kappa Omicron Nu was structured to realize the synergistic benefits of two strong organizations. Kappa Omicron Nu gives voice to advocacy for scholarship; clarity to the quest for excellence in scholarship, research, and leadership; leadership to a sizable scholarly community for critical dialogue, collaboration, and networking; emphasis to examining the responsibility of scholars to the profession and society; commitment to enriching the intellectual environment through its local and national initiatives; and priority to innovative and enhanced services.
1995:
KON Redefined its Field to Human Sciences
Home Economics was one of the first acceptable subjects for women to pursue in higher education along with nursing and teaching. Home economics conceptually was and still is today the study of managing the home and everything involved with it and its inhabitants: including budgeting and personal finance, sewing and textiles, diet and nutrition, cooking, exercise and health, child development, elder care, interior design, and any other subject logically involved in daily home life.
From the advent of the titling of the subject home economics in the early 1900s to the renaming of the subject in the late 1990s, daily life in the home has evolved tremendously over 100 years, and with it, the subjects related to the home have evolved as well.
1995 Continued:
Today Home Economics is a popular and growing field in most countries and is led by the International Federation of Home Economics (IFHE).
In 1994, the American Home Economics Association changed its name to the American Association of Family & Consumer Sciences in response to changing viewpoints and roles in academia. In 1995, instead of changing its focus to Family & Consumer Sciences, Kappa Omicron Nu changed its defined field of expertise to the Human Sciences.
In the U.S. the field of Family & Consumer Sciences itself as a subject is declining in enrollment, but the components of the scientific study of improvement of the home and daily life, are alive and well, reaching new heights and new levels of scientific study.
2015:
2015: Change in leadership:
Kappa Omicron Nu was led by Dorothy Mitstifer for 30 years. She strongly shaped the organization and helped countless people find connections and develop professionally. As with any long-term leader, the organization changed significantly in her departure. Today Dorothy is remembered for her devotion to Kappa Omicron Nu and her passion for helping others and building future leaders.
2021:
New logo
Kappa Omicron Nu updated their logo, and a series of logos are official including the key, seal, and name. KON also extended their traditional burgundy and gold color palette to add secondary colors of tan, brown, pale gold, and cream.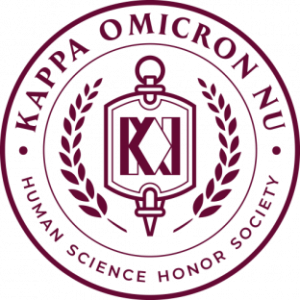 No gift is too small. Please support KON.