Audrey C. Burkart (1929-2017)
Audrey Burkart was from Ridgefield, NJ. She earned a Bachelor's and Master's degree from New York University and a Doctorate from Columbia University in the field of Nutrition and Home Economics. She taught at Ridgefield High School and Rutgers University where she then became the Head of the Nutrition and Home Economics Department. Audrey loved cooking and embroidery, and her faith was important to her. She was an active volunteer and a good friend. She gave $49K to KON, supporting scholarships to students.
Linda J. Nelson, (1929-2021)
Linda Jean Nelson, was born in Chicago and raised in Pittsburgh and Philadelphia. She got her Bachelors from University of Pennsylvania, a Masters from Iowa State, and her Doctorate from Michigan State. While her field was officially anthropology, she found gender limitations essentially pushed her into what was then called home economics, although her personal approach to cooking was to heat up something and, when it came to sewing, she called her mother. Linda did research for both of her theses in villages in Costa Rica, where she studied the household practices of rural homemakers. This led to a career developing programs to improve nutrition, sanitation and the quality of life in villages all across Latin America. First, she worked for the Organization of American States (OAS) out of Turrialba, Costa Rica, and then for the UN Food & Agriculture Organization (FAO) out of Santiago, Chile. She was fluent in Spanish. Dr. Nelson returned to the United States and joined the faculty of Michigan State University. She was a long time active member of KON. Linda donated $20K to scholarships for student KON members.
Learn more about her remarkable life >>
Dr. Betty Jeanne Root (1926-2010), Omicron Kappa
Betty Jeanne Sundling was born in Raymond, Washington on September 30, 1926. Her father, Ernest Sundling, Sr., came from Sweden, and her mother, Olga Kanerva Sundling, came from Finland. Betty Jeanne graduated from Raymond High School in 1944. She continued her education at State College of Washington for a B.A. in Home Economics, Iowa State University for an M.S., and Michigan State University for a Ph.D. in Family Ecology. Betty Jeanne held teaching positions in California and Washington. She was also State Extension Specialist for the State of Arkansas. After retirement, she cared lovingly for her mother until her death in 1990. She married Robert Root in 1993 and was able to enjoy the companionship of a husband with whom she traveled extensively. She lived in the Olympia area before moving to California for medical reasons in 2008 She passed away in 2010 in Rocklin, California from complications related to Parkinson's and Alzheimer's. Her career, her family, and her heritage were all important to her. She gave $35K to Kappa Omicron Nu, creating a scholarship for students to follow in her footsteps.
Dr. Dorothy I. Mitstifer, Omicron Tau (1932-2015)
Dorothy was born August 17, 1932 in Gaines, PA. Upon graduating from Genesee High School in Genesee, PA, Dorothy earned a B.S. in Home Economics Education from Mansfield University, followed by both an M.Ed. and a Ph.D. from Pennsylvania State University. For more than 50 years, Dr. Mitstifer served as the Executive Director and Editor of Kappa Omicron Nu (KON), the national human sciences honor society. She also served for decades as Executive Director for the Association of College Honor Societies (ACHS), and held executive and board positions for other local, state, and national organizations too numerous to count. Dr. Mitstifer authored over 100 books, articles, and manuscripts, and always shared her time and talents generously. Her service and devotion to higher education, undergraduate research and professional development earned countless awards, and inspired enduring affection and respect from her students and colleagues around the globe. At her retirement in 2015, she was named Executive Director Emerita for both KON and ACHS in honor of her lasting legacy of excellence in scholarship, leadership, and research. In addition to being the consummate professional, Dorothy was devoted to her family and cherished every moment spent with them.
Upon her passing, colleagues, family, and friends of Dorothy's pooled together to in her name donate a generous $24K+ to scholarships for Kappa Omicron Nu. Dorothy will be remembered as a steadfast leader, a great connector, and an inspiration to many around her.
Elizabeth Weekley (1929-2014), Kappa Beta
Liz was born Elizabeth Ann Collings in November 1929 in Independence, MO. She graduated from William Chrisman High School in 1947, then went on to attend Central Missouri State College, graduating with a degree in Home Economics in 1951. After graduating college she began teaching high school home economics in Adrian, MO where she taught for two years. She then moved to the North Kansas City School District, where she taught home economics during the school year and studied for her master's degree during the summers. She completed her master's degree in Home Economics at Colorado State University in Fort Collins, CO. Liz married Donald Weekley in 1968. After retiring from teaching in 1983 she focused her attention on Shaklee product sales and attained supervisor level. After Don died in 1990, she married Jerry Sutton in 1999. Liz was a generous donor to Kappa Omicron Nu, giving $23K and many other worthy causes.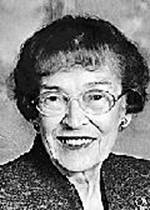 Eileen Maddex, Omicron Alpha (1921-2009)
Eileen Irene Callaghan was born in Columbus Ohio, in 1921, the eldest of five children. She attended Catholic school and graduated from Ohio State University in 1944. She moved with her husband to East Lansing Michigan in 1948 when Robert became a professor at Michigan State University. Eileen put her Home Economics degree to work early as a mother and homemaker and raised five sons; Doug, Greg, Jeff, Norm and Paul in Haslett, Michigan. In 1966 Eileen accepted the position of Executive Director of Omicron Nu, Inc. a National Home Economics Honor Society. Her professional career blossomed over the years due to her organizational, budget and management skills. Eileen regularly organized, planned and coordinated national conferences involving hundreds of attendees from across the country. She belonged to many social, religious and professional societies throughout her life. Eileen served on the executive board of directors of numerous organizations, including the Association of College Honor Societies.
In the early 1990's Eileen became Executive Director of the Ingham County Home Association where she headed a five-year project to design, construct and operate Marsh Pointe, a 108-unit apartment complex for elderly seniors of moderate income. This was the crowning achievement to her successful and varied professional career. Upon her passing, friends and colleagues contributed generously to a scholarship with Kappa Omicron Nu in her name. Eileen enjoyed traveling and she regularly visited her children and grandchildren across the United States, to Alaska, Mexico, the Bahamas, and Europe. Throughout her life, Eileen's faith in God and the church was ever-present in all she did.
Marjorie M. Brown, Omicron Rho – $100K
Ruth E. Hawthorne, National Alumni – $90K
See Our 2020 – 2021 Inner Circle of Donors